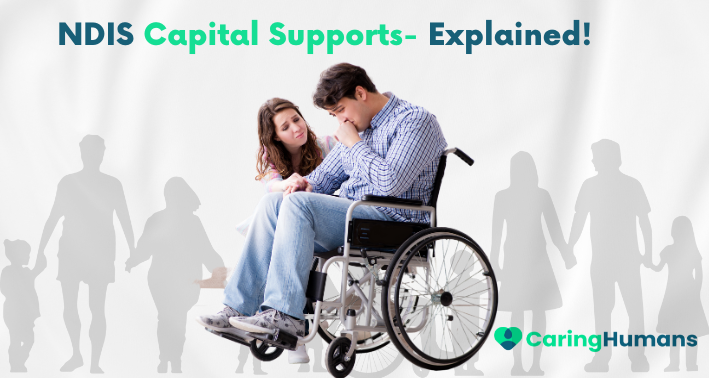 You have your NDIS Plan, which is awesome! Whether you're new to the NDIS or have been getting help from them for a while, it's important to understand the different types of support they offer.
The money in your NDIS Plan is split into three budgets, also known as NDIS support categories or NDIS budget categories. These budgets cover different things that can help you. Depending on what you need, you might get money in one or more of these categories. In today's blog, we're going to discuss a type of support category called Capital Supports. With a greater understanding of these support categories, you can feel more confident in using your NDIS plan budget effectively.
NDIS Capital support covers the expenses for higher-priced assistive technology, equipment, home modifications, and vehicle adjustments. This budget can also provide funding for specific purchases like specialist disability accommodation (SDA).
Capital support falls under the NDIS budget category, and they have certain limitations. Your budget for this type of support is designated for particular items mentioned in your NDIS Plan. In most cases, items require a quotation. This means you'll need to discuss the price with a service provider and get a written quote before making a purchase.
We understand that the different kinds of NDIS funding can be a bit confusing, so we made this guide to explain Capital Support. We'll talk about what it is, how it works, and how you can get it.
What is Capital Support?
Capital Support is the third type of funding available through the National Disability Insurance Scheme (NDIS). It is used to pay for more expensive or extensive support that may help you live more independently and achieve your goals.
The two main categories of the capital support are
| | | |
| --- | --- | --- |
| NDIS Plan Category | In the Myplace Portal | Description |
| Assistive Technology | Assistive Technology | This category includes equipment for mobility, personal care, communication, and recreation, like wheelchairs or vehicle modifications. |
| Home Modifications | Home Modifications | This category covers modifications to your home for better accessibility and safety, including items like handrails in bathrooms and funding for Specialist Disability Accommodation if required due to a disability. |


1. Assistive Technology
Assistive technology (AT) can help you live a more active lifestyle or have your carer take care of your needs.
Each person's NDIS funding within their plan is unique and is based on how their impairment impacts them personally and the support they need to achieve their goals. Many NDIS participants need the assistance of assistive technology (AT) to do daily tasks such as using a computer and getting around the community.
Your capital support NDIS budget could include funding for AT, which can be used to purchase the equipment you need to reach your goals and live a full life.
This category includes specific technology and equipment to help you live independently, such as
Smart devices
Wheelchairs and other mobility equipment
Electric beds
Communication devices
Bathing and toileting equipment
Vision-assistive technology
Repair and maintenance of equipment
Assistive technology leasing costs
Assistive materials for self-care and safety (mattresses, bed rails, personal alarms, etc.)
Vehicle modifications
Service animals (such as guide dogs)
Moving equipment
If you think you might need AT, please talk to your NDIS planner. They can help you assess your needs and identify the right AT for you.
2. Home Modifications
The NDIS can fund structural changes to your home to remove barriers that your disability poses in your day-to-day activities. This may include updating the fixtures in your kitchen, foyer, or bathroom. The funding will cover the costs of assessment, delivery, installation, modification, and maintenance of your home renovation project.
Your NDIS plan may include home modifications if:
It is not feasible for you or your caregivers to fully use the rooms and areas in your primary residence due to the severity of your disability.
An Occupational Therapist has assessed the situation and recommended that home modifications be implemented if other options are not enough.
Your primary residence and its location have a significant impact on the viability of your current living and care arrangements.
To request funding for home modifications, you will need to contact your NDIS Local Area Coordinator (LAC). They will be able to provide you with more information about the process and help you complete the necessary paperwork.
Here are some examples of home modifications that may be funded by the NDIS:
Installing ramps and railings to improve accessibility
Modifying doorways and hallways to accommodate wheelchairs or other mobility devices
Adding grab bars in the bathroom and shower
Installing a stairlift
Making changes to the kitchen to make it easier to cook and prepare meals
Converting a bedroom into an accessible living space


How does the Capital Support funding process work?
Assessing Participant Needs for Capital Support in the NDIS
The process of assessing participant needs is a crucial aspect of the capital support budget within the NDIS framework. To effectively utilize these funds, it's essential to conduct research and obtain quotes prior to an NDIS plan meeting or review. Capital support budget items are inflexible, making it necessary to plan for timely plan reviews.
For instance, consider a scenario where a participant with a physical disability requires a specialized wheelchair to engage in their chosen sport. In such cases, an Occupational Therapist collaborates with the participant to provide recommendations and evaluate their mobility needs to determine the most suitable wheelchair. The inclusion of such items necessitates Occupational Therapist endorsements and NDIA approval.
Navigating the Funding Process for Capital Supports
Once the participant's specific needs are identified, the next step involves seeking funding for capital support. Unlike the Core Support budget, the funding process for capital support involves a comprehensive assessment of the costs linked to acquiring the required items or modifications.
For example, if a participant needs a vehicle modification, obtaining a quote from a licensed vehicle modification specialist becomes essential. This quote outlines the precise modifications needed along with their associated costs.
Decoding "Stated Supports" in the NDIS Plan
In the context of the NDIS plan, "stated supports" refer to designated allocations of funding for specific services or supports. Flexibility is limited here, as the funding is earmarked for particular purposes and cannot typically be repurposed.
Some stated supports may necessitate providing a quote, which then becomes a fixed entry in the plan with the quoted amount. This means that the amount allocated aligns with the quote, and in most cases, substitutions with other items aren't allowed. However, the NDIS does allow for light reviews or full plan reviews if circumstances change.
How can you utilise your Capital Support funding effectively?
To make the most of your Capital Support funding, it's important to keep a few key points in mind:
Specific Purpose: Capital Support funding is allocated for particular items, such as equipment and aids. This means that the money is intended for those specific needs and cannot be used for other purposes.
Plan Allocation: If you've been granted funding for a certain category, like communication devices, ensure that you use it solely for that purpose. It's not interchangeable with other categories, so thoughtful allocation is essential.
Multiple Needs: If you require more than one adaptation or home modification, discuss this with your NDIA coordinator. Sharing any quotes, reports, or recommendations with your NDIA planner can help ensure that your needs are accurately addressed in your plan.
Planning Meeting: If you have any relevant documents like quotes or reports, bring them to your planning meeting. This can help inform the discussion and ensure that your plan aligns with your requirements.
By staying mindful of these points and engaging in clear communication with your NDIA coordinator and planner, you can effectively utilize your Capital Support funding to meet your specific needs.
How CaringHumans Support you in utilizing the Capital Support in your NDIS plan?
At CaringHumans, our primary focus is providing personalized assistance in maximizing your Capital Supports budget utilization. Capital Support is a vital component of your NDIS plan, covering higher-cost essentials such as assistive technology, equipment, home or vehicle modifications, and even funding for one-time necessities like Specialist Disability Accommodation.
CaringHumans offers a diverse range of Capital Support services, each designed to elevate your quality of life. From assistive technology to home enhancements, our dedication is to ensure you have access to tools that enhance independence and daily experiences.
Connect with us today to discover how CaringHumans can support you in optimizing your Capital Supports budget.